Insurance in Estonia – World Insurance Companies Logos. By clicking on the logos of each insurer, you can find up-to-date details on the different types of coverage policies you needs.
Estonian Insurance Company Logos
Logos of Estonian Insurance Companies. The graphic mark of a company is synonymous with its brand. A logo is immediately recognizable and allows the customer to associate the company with the useful qualities such as trust, the fair price and numerous other vital questions find the best coverage.
Click on the logos of the insurers to get a bunch of updated information offering every Estonian insurer. Our goal is to help you find the best insurance on the Internet.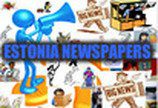 Health in Estonia
Estonia has a well-developed healthcare system that places a strong emphasis on accessibility, quality, and digital innovation. Here are some key aspects of health in Estonia:
View more European Insurance Company logos.
Estonian Companies – World Insurance Companies Logos