Home->Mexico, North America -> Mexican Insurance Companies->Mexican Insurance
​INSURANCE COMPANIES IN ​MEXICO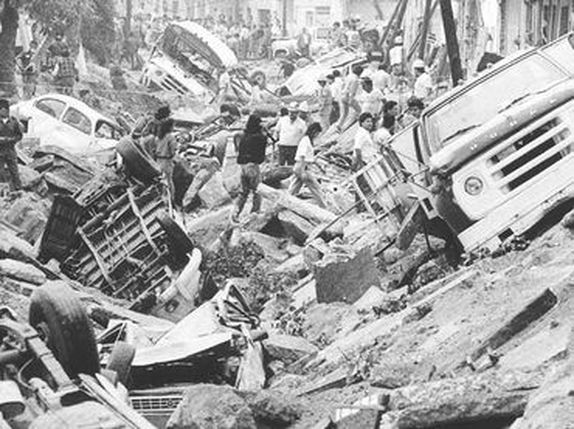 On Wednesday, April 22, 1992, the 461-year old city of Guadalajara, Mexico, experienced a series of ten massive explosions occurring in the heart of the downtown Reforma district. An investigation into the disaster found that there were two precipitating causes: New water pipes, made of zinc-coated iron, were built too close to an existing steel gas pipeline.
The underground humidity caused these materials to create an electrolytic reaction, akin to that which occurs in a zinc-carbon battery. As the reaction proceeded it eventually caused the steel gas pipe to corrode, creating a hole in the pipeline that permitted gas to leak into the ground and into the main sewer pipe.
The sewer pipe had been recently rebuilt into a U-shape so that the city could expand their underground metro railway system.
Usually sewers are built on a slope so that gravity helps move waste along. In order to get the U-shape to work, an inverted siphon was placed so that fluids could be pushed against gravity. The design was flawed, however. While liquids were successfully pumped through, gases were not, and gas fumes would build up.

Mexico, North America – World Insurance Companies Logos. The graphic mark of a company is synonymous with its brand. In insurance, logos are instantly recognizable and allows that the customer associates the companies with the useful qualities such as trust, the fair price, and many other vital issues on the task of finding the best insurance.
Click the logos of the Insurance Companies for getting a bunch of updated information offering each insurer of Mexico. We want to help you to find the best Insurance 
List of Logos of Insurance in Mexico
List of Logos of Insurance in Mexico. Watch the best insurance providers in Mexico, based on cost, coverage, customer service and claims support. Locate the Insurance Company you trust
List of Insurance Companies Logos in Mexico 
List of Mexican Insurance Companies. By clicking the logos of Insurance Companies you have instant access to updated information on insurance issues that can help you in the task of choosing the best insurance, and also, get phone numbers, addresses, and prices, that Insurance Companies offer on the Internet.
Find the logos and insurers' names in countries near Mexico on the North America, America page.
Best Mexican Insurance
Find out the best Insurance​​ Co
Some Tips
1- Find the right coverage
First, it's important to gather information about the right coverage, and obtain insurance quotes from, a variety of insurers as part of your overall selection process. In order to do that, begin by determining the type of coverage you need in order to make a right comparison across multiple companies.
Now it's time to research the types of insurers from which to obtain that coverage.
2- Check License Status
Insurers must be licensed by the country in which they sell insurance. For added peace of mind, be sure you're buying coverage from a licensed provider in your area by checking with the department of insurance of your Country, either online or by phone.
3- Check financial stability
Finding out the financial stability of an insurance company. One can research a provider's insurance, financial strength rating, in the websites of companies such as A.M. Best, Standard & Poor's, Moody's or Fitch. While most of the major insurance companies are safe bets, this is especially helpful when considering smaller, lesser-known providers.
4- Customer service and claims support
Check consumer complaint ratios. Many departments of insurance websites publish consumer complaint ratios for the insurance providers. A consumer complaint ratio tells you how many complaints an insurance company received for every 1,000 claims its policyholders filed.
It's also a good idea to check a company's complaint ratio in several other countries for a company might have great ratings in one, but not-so-great ratings in another. For added protection, look for companies with low consumer complaint ratios in a variety of countries.

Locate the insurance company you trust
List of Mexican Insurance Companies Names
A.N.A. Compañía de Seguros, S.A.
ABA Seguros, S.A.
ACE Seguros. World Group
Agroasemex, S.A.
Alcanza Seguros S.A.
ALICO Compañía de Seguros de Vida.
Allianz. World Group.
Aseguradora Interacciones, S.A.
Aseguradora Patrimonial Daños, S.A.
Aseguradora Patrimonial Vida, S.A.
Assurant Daños S.A. World Group
Assurant Vida S.A.
Atradius Seguros de Crédito, S.A.
AXA. World Group
BUPA. World Group.
Cardif Seguros de Vida
Cardif Seguros Generales
CESCE S.A.
Chartis. World Group
Chubb. World Group.
COFACE Seguro de Crédito
Deco Seguros, S.A.
El Águila, Compañía de Seguros
Euler Hermes Seguro de Crédito, S.A.
Fidelity National Title
Mexico, North America – World Insurance Companies Logos