​​List of Insurance Companies Logos and Names in Congo – World Insurance Companies Logos. Click on the image of the underwriters logo to access a wealth of knowledge on insurance matters. Get the best insurance provider.
​​List of Insurance Companies Logos and Names in Congo
​​List of Insurance Companies Logos and Names in Congo. The symbol of a company is synonymous with its brand. In insurance, the logo image is instantly recognizable and allows the customer to associate the company with the useful qualities like trust, the right price and a lot of other vital questions about finding the best insurance. Click on the logo image of the insurance companies to get a bunch of up-to-date information offering to every insurer. We would like to help you find the best assurance.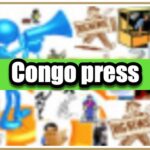 Economy of Congo
​The economy of this country is a mixture of subsistence hunting and agriculture, an industrial sector based largely on petroleum extraction and support services, and a government spending, characterized by budget problems and overstaffing. Petroleum has supplanted forestry as the mainstay of the economy, providing a major share of government revenues and exports. Nowadays the country is increasingly converting natural gas to electricity rather than burning it, greatly improving energy prospects
Petroleum
The Congo's growing petroleum sector is by far the country's major revenue earner. In the early 1980s, rapidly rising oil revenues enabled the government to finance large-scale development projects with GDP growth averaging 5% annually, one of the highest rates in Africa. However, the government has mortgaged a substantial portion of its oil earnings, contributing to the government's shortage of revenues.
The Congolese oil sector is dominated by the French parastatal oil company Elf Aquitaine, which accounts for 70% of the country's annual oil production. In second position is the Italian oil firm Eni. Chevron, independent CMS Nomeco, and Exxon Mobil are among the American companies active in petroleum exploration or production. Following recent discoveries and oil fields currently under development, Congo's oil production is expected to continue to rise significantly in the next few years

Congo and the United States ratified a bilateral investment treaty designed to facilitate and protect foreign investment. The country also adopted a new investment code intended to attract foreign capital. Despite this, Congo's investment climate is not considered favorable, offering few meaningful incentives.
High costs for labor, energy, raw materials, and transportation; a restrictive labor code; low productivity and high production costs; militant labor unions; and an inadequate transportation infrastructure are among the factors discouraging investment. The recent political instability, war damage, and looting also will undermine investor confidence. As a result, Congo has little American investment outside of the oil sector.
Check out more insurance company logos in African Insurance Companies Logos.

Congo, Africa – World Insurance Companies Logos