LIST OF FRENCH INSURANCE COMPANIES 
France, Europe – World Insurance Companies Logos. The corporate brand is synonymous with its brand. In insurance, a logo is immediately recognizable and allows the client to associate the business with the useful qualities such as trust, the right price, and a lot of other vital questions about the task of finding the best insurance. Click Logos of the French insurers to get a bunch of updated information offering every insurer in France. We want to assist you in finding the best insurance online.

DIRECTORY OF LOGOS AND NAMES OF ASSURANCE COMPANIES IN FRANCE
List of insurance company logos and names in France . Watch the best insurance providers in France, based on cost, coverage, customer service and claims support. Find the insurance provider you trust.
Find the logos and names of insurance companies in countries close to France on the Logos page of European insurance companies.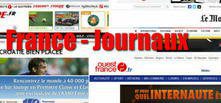 L'AUTORITÉ DE CONTRÔLE PRUDENTIEL (ACP)
L'Autorité de contrôle prudentiel (ACP) est une autorité administrative indépendante, sans personnalité morale, qui surveille l'activité des banques et des assurances en France. Elle a été fondée en janvier 2010 par l'ordonnance no 2010-76 1, par fusion de la Commission bancaire, de l'Autorité de contrôle des assurances et des mutuelles (ACAM), du comité des entreprises d'assurance et du comité des établissements de crédit et des entreprises d'investissement (CECEI).
Cette fusion avait été préparée par l'article 152 de la loi de modernisation de l'économie de 2008 qui autorisait le gouvernement Fillon à effectuer celle-ci par ordonnance. L'ACP a pour mission de veiller « à la préservation de la stabilité du système financier et à la protection des clients, assurés, adhérents et bénéficiaires des personnes soumises à son contrôle » (art. L. 612-1 du Code monétaire et financier, CMF).
L'ACP coopère avec l'Autorité des marchés financiers (AMF) et TRACFIN. Par ailleurs, elle représente la France dans les instances internationales de la banque et des assurances.
L'ACP est composée d'un collège et d'une commission des sanctions. Le collège est composé des membres suivants (art. L. 612-5 CMF) :
1-le gouverneur de la Banque de France, ou le sous-gouverneur qu'il désigne pour le représenter, président ;
2-le président de l'Autorité des normes comptables ;
3-un conseiller d'État, proposé par le vice-président du Conseil d'État ;
4-un conseiller à la Cour de cassation, proposé par le premier président de la Cour de cassation ;
5-un conseiller maître à la Cour des comptes, proposé par le premier président de la Cour des comptes ;
6-un vice-président disposant d'une expérience en matière d'assurance et deux autres membres, tous trois choisis en fonction de leurs compétences en matière de protection des clientèles ou de techniques quantitatives et actuarielles ou dans d'autres matières utiles à l'exercice par l'Autorité de ses missions ;
7-quatre membres choisis en raison de leurs compétences en matière d'assurance, de mutualité, de prévoyance ou de réassurance
8-quatre membres choisis en raison de leurs compétences en matière d'opérations de banque, de services de paiement ou de services d'investissement.
Les membres nommés de 3 à 8 le sont par arrêté du ministre de l'Économie, pour un mandat de cinq ans. Le secrétaire général de l'ACP est aussi nommé par arrêté du ministre de l'Économie, sur proposition du président de l'ACP (art. L. 612-15 CMF).
From Wikipedia
France, Europe – World Insurance Companies Logos