​List of Insurance Companies Logos and Names in Gambia – World Insurance Companies Logos. Click on the insurance company logos for a wealth of up-to-date information for every insurer. Take a look at the essential points about healthcare in Gambia.
​List of Insurance Companies Logos and Names in Gambia
​List of Insurance Companies Logos and Names in Gambia. The graphic mark of a company is synonymous with its brand. In insurance, a logo is instantly recognizable and allows the customer to associate the company with the useful qualities such as trust, the right price and many other vital questions about the search for the best assurance.
For precise and up-to-date information on every insurance company, click on the logo on their official website.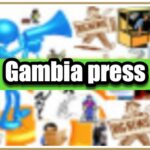 Healthcare in Gambia
Healthcare in The Gambia, a country in West Africa, faces various challenges, but has made progress in recent years. Here are some key points about healthcare in The Gambia:
Healthcare System: The Gambian healthcare system consists of both public and private sectors. The government provides healthcare services through public facilities, while the private sector offers additional options, including private clinics and hospitals.
Healthcare Infrastructure: The healthcare infrastructure in The Gambia is relatively limited, particularly in rural areas. The majority of healthcare facilities are concentrated in urban areas, such as Banjul and Serrekunda. Access to healthcare services can be challenging, especially for those living in remote areas.
Health Services: The Gambia provides a range of healthcare services, including primary care, maternal and child health, emergency care, and some specialty services. However, access to specialized and tertiary care is limited, and patients may need to be referred abroad for advanced treatments.
Health Workforce: The availability of healthcare professionals, including doctors, nurses, and other healthcare workers, is a challenge in The Gambia. There is a shortage of skilled healthcare personnel, particularly in rural areas. Efforts are being made to train and deploy more healthcare workers to address this issue.
Communicable Diseases: The Gambia faces health challenges related to communicable diseases, including malaria, respiratory infections, diarrhea, and HIV/AIDS. Public health initiatives focus on prevention, screening, treatment, and education to combat these diseases.
Health Insurance: The Gambia is in the early stages of implementing a national health insurance scheme to improve access to healthcare services. The scheme aims to provide affordable health coverage to a wider population.
External Support: The Gambian government collaborates with international organizations and partners to strengthen its healthcare system. Organizations such as the World Health Organization (WHO) and non-governmental organizations provide support in areas such as capacity building, infrastructure development, and healthcare programs.
Discover more insurance company logos in Africa Insurance Companies Logos.
Gambia, Africa – World Insurance Companies Logos