​LIST OF INSURANCE COMPANIES LOGOS IN GAMBIA
Gambia, Africa – World Insurance Companies Logos. The graphic mark of a company is synonymous with its brand. In insurance, a logo is instantly recognizable and allows the customer to associate the company with the useful qualities such as trust, the right price and many other vital questions about the search for the best assurance.
Click on the insurance company logos for a wealth of up-to-date information for every insurer. We would like to help you find the best insurance online.
LIST OF LOGOS OF GAMBIAN INSURANCE COMPANIES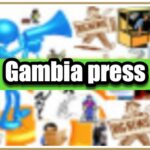 ECONOMY IN GAMBIA
​This country has no important mineral or other natural resources, and has a limited agricultural base. About 75% of the population depends on crops and livestock for its livelihood. Small-scale manufacturing activity features the processing of peanuts, fish, and animal hides.
Short-run economic progress remains highly dependent on foreign aid, and on responsible government economic management as forwarded by International Monetary Fund technical help and advice.
In FY 1999, the UK and other EU countries where the Gambia's major domestic export markets, accounting for 86% of all exports. This was followed by Asia at 14% of exports, and the African at 8% of exports.
The U.K. and the other EU countries – namely, Germany, France, Netherlands, and Belgium – were the major source of imports, accounting for 60% of the total share of imports, followed by Asia at 23%, and African countries at 17%. This nation re-exports 11% of its exports going to and 14.6% of its imports coming from the United States.
Tourism
Tourism in Gambia has three major strands. There is the traditional sun seeking holiday making use of the hot climate and wonderful beaches. The Gambia is also usually the first African destination for many European birders, in view of its easily accessed and spectacular avian fauna.
There are also a significant number of African Americans tracing their roots in this country, from which so many Africans were taken during the slave trade.
The tourist season is the dry season, during the Northern Hemisphere winter
Discover more insurance company logos in Africa Insurance Companies Logos.
Gambia, Africa – World Insurance Companies Logos