Sweden Insurance – World Insurance Companies Logos. Monitor the best insurers in Sweden, according to cost, coverage, customer service and claims support. Find the insurer you trust.
Insurance Companies Logos in Sweden
A logo is immediately recognizable and allows the customer to associate the company with the useful qualities such as trust, fair price, etc., and many other vital questions about how to find the best insurance. Click on the logos of the insurance companies to get a bunch of updated information offering every Sweden insurer. We want to help you to find the best insurance on the internet.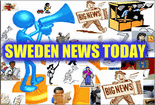 Health in Sweden
Health in Sweden is characterized by a well-developed healthcare system, a strong emphasis on preventive care, and good health outcomes. Here are some key points regarding health in Sweden:
Healthcare System:
Sweden has a universal healthcare system that provides comprehensive medical care to all citizens and residents. The system is primarily funded through taxes and is managed by the county councils and regions. The government sets policies and regulations, and the Swedish Ministry of Health and Social Affairs oversees the healthcare sector.
Primary and Specialized Care:
Primary healthcare services in Sweden are primarily provided by general practitioners (GPs) or family doctors, known as "vårdcentralen." They offer preventive care, diagnose and treat common illnesses, and refer patients to specialists when needed. Specialized care is available through hospitals and specialized clinics, where medical specialists provide advanced diagnostic, treatment, and surgical services.
Hospitals and Emergency Care:
Sweden has a network of public hospitals that provide comprehensive healthcare services, including emergency care. Emergency departments are available in hospitals to handle acute medical conditions and emergencies. Emergency medical services (EMS) are well-developed and provide quick access to emergency care throughout the country.
Preventive Care and Public Health Initiatives:
Preventive care and public health initiatives play a vital role in Sweden's healthcare system. Regular health screenings, vaccinations, and health promotion campaigns are conducted to detect diseases early and promote healthy behaviors. The Swedish National Board of Health and Welfare is responsible for public health programs and policies.
Health Indicators:
Sweden generally has good health indicators. Life expectancy at birth is high, averaging around 81 years for men and 84 years for women. Infant mortality rates are low, and child vaccination rates are high. Sweden has made progress in reducing mortality from cardiovascular diseases, cancer, and other major causes of death.
Challenges and Future Plans:
Despite its well-regarded healthcare system, Sweden faces challenges such as increasing healthcare costs, an aging population, and the need to address health inequalities among different socioeconomic groups. Efforts are being made to improve access to care, enhance patient-centered care, and invest in health promotion and disease prevention initiatives.
Find out more Logo of a European insurance company.
Sweden, Europe – World Insurance Companies Logos