INSURANCE COMPANIES LOGOS IN ARMENIA
Armenia, Asia – World Insurance Companies Logos​.  The corporate brand is synonymous with its brand. In insurance, a logo is instantly recognizable and allows the customer to associate the business with the useful qualities such as confidence, the right price, and many other critical issues for finding the best insurance. Click on the logos of the insurance companies to get a bunch of up-to-date information offering each insurer from Armenia. We would like to assist you in finding the best insurance. Monitor the top insurance providers for cost, coverage, customer service and claims support. Find the reassurance you trust.
DIRECTORY OF ARMENIAN LOGOS OF INSURANCE ENTERPRISES
Directory​ of Insurance Companies in Armenia. By clicking on the Insurance Company logo, you get instant access to updated information on insurance matters that can help you in the task of choosing the best insurance, and also, get phone numbers, addresses, and prices, that insurance company offers on the internet.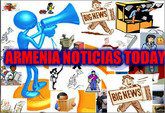 INSURANCE SECTOR DEVELOPMENT
INSURANCE SECTOR DEVELOPMENT
Based on market estimates for 2003, premium revenues were less than $4 million. By comparison, the 88th largest country in the world for insurance premium revenues was Latvia, at $220 million.
Armenia is among the smallest of insurance markets in the world, with estimated density per capita of less than $2, and market premiums per active company of about $200,000.
Armenia: Financial Sector Assessment
Insurance is profitable despite being small, with many transactions thought to be unrecorded to avoid tax payments and reporting requirements. Reinsurance outflows are very high and account for 97 percent of total revenues. Claims paid in 2003 were less than 20 percent of estimated gross premium revenues. In general, the sector reports after-tax profits.
There is no compulsory insurance in Armenia, one of the reasons for its small size. This is expected to change as Armenia introduces third party motor liability. Another compulsory insurance is being contemplated for the health sector. Some market transactions serve as a stimulus for insurance sector development, such as housing loans that require property insurance.
Barriers to foreign investment in the underdeveloped insurance sector have stifled growth. Armenia remains one of the least dense and penetrated insurance markets in the world, with per capita premium revenue of less than $2. Most of the insurance activity is effectively in Europe through reinsurance
channels.
A weak insurance framework likewise translates into the absence of institutional investors. Insurance companies are needed as institutional investors for capital markets development, private placements, improved governance in financial institutions and strengthened financial discipline in companies. Absent meaningful reforms and change in the insurance sector, their presence as institutional investors will not occur. Absent institutional investors, the economy will not diversify and grow.
Insurance companies are small in assets and capital and limited in terms of premium revenue and earnings. The capital was $3.2 million at year-end 2003, or less than $170,000 per active company. A new framework is evolving that will require firms to adhere to sound regulations regarding solvency and liquidity. However, until new investment enters the marketplace (largely based on the incentive of compulsory insurance), insurance will remain small and underdeveloped. From a policy standpoint, it will be essential to eliminate barriers to entry for reputable foreign firms, and to present a framework to make it possible to evolve to a multi-pillar pension system with well-managed life insurance companies potentially playing a role in asset management in a second and/or third pillar.
Rather than being vulnerable to systemic risk, the underdevelopment of the insurance sector simply constrains business and financial sector development. Businesses that lack certain kinds of insurance also lack protection against unforeseen events. Individuals are constrained from housing loans if they are
unable to obtain the appropriate insurance policies.
D. PENSION FUND DEVELOPMENT
Armenia has an unsustainable pay-as-you-go pension system, although reforms are being discussed. Reform will eventually help in the long run with fiscal issues as well as with the gradual development of institutional investment in the economy. However, for now, people are used to receiving their social insurance payments from the state fund without any commissions. Meanwhile, because of alleged corruption and mismanagement, erosion in value occurs through leakage.
Some reforms have been introduced in the last five years with donor support. This has resulted in improving contribution collections and a strengthened benefits payment system. Reforms have also led to a system of social security numbers, which has been introduced and implemented nationally. As a result, virtually all workers carry a uniquely numbered social security card, and the system will soon issue test reports of employer and employee data reflecting an employee's work and contribution payment history.
​Notwithstanding improvements, Armenia's pension system is still in need of reform. The government has announced its intention to introduce pension reform in the next few years, although no clear plans have yet been agreed to about the system that would develop, how and by whom it would be regulated, investment parameters for collecting proceeds, etc. Any reforms will require changes in the traditional pay-as-you-go (PAYG) system to make the first pillar more sustainable while also setting the foundation in the long term for moving to a second and/or third pillar. This will require a review of eligibility criteria (e.g., extending the age at which benefits are paid, reducing incentives for early retirement), payment requirements (e.g., within a specified time period), guidelines for value preservation and/or indexation, benefits levels to protect people against poverty without being overly generous, and making benefits funded on a Pay-As-You-Go basis relatively flat, means-tested, or based on a minimum pension guarantee.
For sound implementation and sustained public confidence, pension reform will also require institutional investors, management and custodial capacity, new and longer-term financial instruments, and improvements in the way Armenia's securities market currently functions (if it does). Broad improvements in governance, management, transparency, accountability, and consumer protection will be needed.
In terms of medium-term financial sector development, there is not likely to be a much impact of pension reform in terms of lending and investment. Privately managed pension funds should develop over time as the system develops. However, the government has not yet agreed on policy objectives, let alone legal, regulatory or institutional requirements to support a reformed pension system.
Because of severe underdevelopment, there is a very little vulnerability in the non-bank financial system. Pension reform is the most explicitly needed change at the moment for financial sector development. This is because introducing a second pillar pension scheme would provide a mandatory vehicle for future savings that would also serve as a pool for investment under regulated conditions. At the moment, payments into the first pillar are not subject to audits or scrutiny, and payments are exceedingly low. This reduces the incentive to pay into the system, which has also served as a disincentive to present long-term investment instruments for sound management and safekeeping of peoples savings.
From INSURANCE SECTOR DEVELOPMENT
​Armenia, Asia – World Insurance Companies Logos
Find more Insurance Companies Logos in Asian Insurance Companies