Cambodia Insurance – World Insurance Companies Logos. Click on the logos of the insurers to get a lot of updated information offering each insurer. We want to help you to find the best coverage on the internet.
Cambodian Insurance Company Logos
Logos of insurers with names. The graphic mark of a company is synonymous with its brand. In insurance, a logo is immediately recognizable and enables the customer to associate the company with the useful qualities such as confidence, the right price, etc., and many other vital questions about how to find the best coverage.
By clicking on the Insurance Company logo, you get instant access to updated information on insurance matters that can help you in the task of choosing the best coverage, and also, get phone numbers, addresses, and prices, that Insurers offer on the Internet.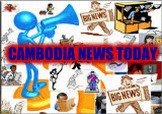 Health in Cambodia
The quality of health in this nation is rising along with its growing economy. The public health care system has a high priority for the Cambodian government and with international help and assistance, Cambodia has seen some major and continuous improvements in the health profile of its population since the 1980s, with a steadily rising life expectancy.
A health reform of this country in the 1990s, successfully improved the health of the population, placing Cambodia on a track to achieve the Millennium Development Goal targets set forth by the United Nations.
One such example is the Cambodian Health Equity Fund, largely financed by the country itself, created in 2000 to increase access to free health care to around 3 million poor people.
The Fund, which pays for traveling expenses and even a daily allowance for anyone accompanying a patient, has resulted in increasing health care seeking among Cambodians who otherwise could not afford any kind of medical care.As a result of the reform, mortality rates significantly dropped. Similarly, life expectancy at birth in 2010 was 62.5 years, a 1.6 fold increase from 1980.
The population and healthcare system struggles with many of the diseases common to the Tropics, in particular in rural areas. In addition, malnutrition of children has long been a major problem. HIV became an increasing problem in 1998, but the epidemic has since been almost curbed.
The Human Rights Measurement Initiative finds that this country is fulfilling 81.2% of what it should be fulfilled for the right to health based on its level of income. When looking at the right to health with respect to children, Cambodia achieves 96.8% of what is expected based on its current income. In regards to the right to health amongst the adult population, the country achieves only 89.7% of what is expected based on the nation's level of income.
Cambodia falls into the "very bad" category when evaluating the right to reproductive health because the nation is fulfilling only 57.1% of what the nation is expected to achieve based on the resources (income) it has available.
From Wikipedia
Find more insurance company logos in Asian Insurance
Cambodia, Asia – World Insurance Companies Logos