Indonesia Insurance – World Insurance Companies Logos. Click on the insurers logos to get a lot of updated information about each insurer. We want to help you to find the best coverage on the Internet
Indonesian Insurance Company Logos
Indonesian Insurance Company Directory Logo & Names. ​The graphic mark of a company is synonymous with its brand. A logo is immediately recognizable and allows the customer to associate the company with the useful qualities such as trust, fair price, etc., and many other vital questions about how to find the best coverage.
By clicking the logo of Insurers you have instant access to updated information on insurance issues that can help you in the task of choosing the best insurance, and also, get phone numbers, addresses, and prices, that insurers offer on the Internet.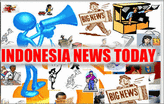 Health in Indonesia
Indonesia is a diverse country located in Southeast Asia with a population of over 270 million people. The health situation in Indonesia has improved over the years, but the country still faces various health challenges. Here is an overview of the health in Indonesia:
Check out more insurance company logos in Asian Insurance.
Indonesia, Asia – World Insurance Companies Logos