Insurance in Hungary – World Insurance Companies Logos. Click on the logos of the insurers to get a wealth of up-to-date information offering each insurer in Hungary. We want to help you to find the best coverage on the internet.
Hungarian Insurance Company Logos
Hungarian Insurance Company Logos. Monitor Hungary's top assurance providers, based on cost, coverage, customer service and claims support. Find the insurance provider you trust.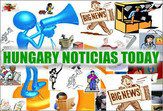 Insurance Company Names in Hungary
View more European Insurance Company logos.
Insurance Companies in Hungary | World Insurance Companies Logos