LIST OF INSURANCE COMPANIES IN SPAIN
Insurance Companies in Spain, Europa – Logos de Compañías de Seguros en todo el Mundo.
The graphic mark of a company is synonymous with its brand. In insurance, a logo is immediately recognizable and allows the customer to associate the company with the useful qualities such as trust, fair price, etc., and many other vital questions about how to find the best insurance.
Click on the logos of the insurance companies to get a bunch of updated information offering every Insurance Companies in Spain. We would like to help you find the best Insurance in the Internet.
DIRECTORY OF INSURANCE COMPANY LOGOS WITH NAMES IN SPAIN
List of insurance logos with names in Spain. Click on each logo for a great deal of vital information to select the best insurer.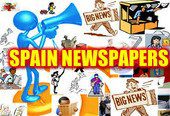 Insurance Companies in Spain – Best Insurance in Spain
How find out the best Insurance ?
Some Tips
1- Find the right coverage
First, it's important to gather information about the right coverage, and obtain insurance quotes from, a variety of insurers as part of your overall selection process. In order to do that, begin by determining the type of coverage you need in order to make a right comparison across multiple companies.
Now it's time to research the types of insurers from which to obtain that coverage.
2- Check License Status
Insurers must be licensed by the country in which they sell insurance. For added peace of mind, be sure you're buying coverage from a licensed provider in your area by checking with the department of insurers of your Country, either online or by phone.
3- Check financial stability
Finding out the financial stability of an insurer. One can research a provider's insurance financial strength ratings, in the websites of companies such as A.M. Best, Standard & Poor's, Moody's or Fitch. While most of the major insurers are safe bets, this is especially helpful when considering smaller, lesser-known providers.
4- Customer service and claims support
Check consumer complaint ratios. Many departments of insurance websites publish consumer complaint ratios for the insurance providers. A consumer complaint ratio tells you how many complaints an insurer received for every 1,000 claims its policyholders filed.
It's also a good idea to check a company's complaint ratios in several other countries since a company might have great ratings in one, but not-so-great ratings in another. For added protection, look for companies with low consumer complaint ratios in a variety of countries.
Locate the insurer you trust
THE SPANISH GENERAL DIRECTORATE OF INSURANCE AND PENSIONS
The General Directorate of Insurance and Pensions (Spanish: Dirección General de Seguros y Pensiones) (DGSFP) is the Spanish government's financial regulatory agency that supervises and controls Spain's Insurance and pension fund sector.
It is responsible for ensuring that the sector functions properly and for providing customers of insurance agencies and members of pension funds with appropriate protection.
To that end, it is empowered to regulate, issue instructions to and supervise the institutions that compose the sector, thus guaranteeing proper operation in accordance with current legislation.
It is part of the Spanish State Secretariat for Economic Affairs (Secretaría de Estado de Economía) of the Ministry of Economy and Finance.
From ​https://en.wikipedia.org/wiki/Direccion_General_de_Seguros
ECONOMY OF SPAIN
​Since the 1990s, some Spanish companies have gained multinational status, often expanding their activities in culturally close Latin America. Spain is the second biggest foreign investor there, after the United States. Spanish companies have also expanded into Asia, especially China and India.
This early global expansion is a competitive advantage over its competitors and European neighbors. The reason for this early expansion is the booming interest toward Spanish language and culture in Asia and Africa and a corporate culture that learned to take risks in unstable markets.
Spanish companies invested in fields like renewable energy commercialization (Iberdrola was the world's largest renewable energy operator), technology companies like Telefónica, Abengoa, Mondragon Corporation, Movistar, Hisdesat, Indra, train manufacturers like CAF, Talgo, global corporations such as the textile company Inditex, petroleum companies like Repsol and infrastructure, with six of the ten biggest international construction firms specializing in transport being Spanish, like Ferrovial, Acciona, ACS, OHL and FCC.
The urban transformation of Bilbao has been hailed as an example of "smart city".
In 2005 the Economist Intelligence Unit's quality of life survey placed Spain among the top 10 in the world. In 2013 the same survey (now called the "Where-to-be-born index"), ranked Spain 28th in the world.
In 2010, the Basque city of Bilbao was awarded with the Lee Kuan Yew World City Prize, and its mayor at the time, Iñaki Azkuna, was awarded the World Mayor Prize in 2012. The Basque capital city of Vitoria-Gasteiz received the European Green Capital Award in 2012.
Find out more Logo of a European insurance company.
Insurance Companies in Spain – World Insurance Companies Logos