Insurance in Spain – World Insurance Companies Logos. The assurance market in Spain is well-developed and highly competitive.
By clicking on each of the insurer logos, you can find up-to-date information on the different types of coverage policies you need.
Top Spanish Insurance Companies
There are several insurers in Spain, and the top companies based on market share and customer satisfaction ratings include:
These are just a few examples of the top insurers in Spain, and there are many others to choose from depending on your specific coverage needs.
Spanish Insurance Company Logos
Spanish Insurance Companies Logos and Names. Click on the logos of the insurers in Spain to get a bunch of updated information offering every Insurer. We would like to help you find the best coverage on the Internet.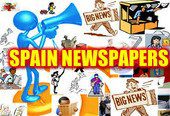 Best Insurance Companies
Best Insurers. How find out the best coverage?
Some Tips
1- Find the right coverage
First, it's important to gather information about the right coverage, and obtain coverage quotes from, a variety of insurers as part of your overall selection process. In order to do that, begin by determining the type of coverage you need in order to make a right comparison across multiple companies.
Now it's time to research the types of insurers from which to obtain that coverage.
2- Check License Status
Insurers must be licensed by the country in which they sell insurance. For added peace of mind, be sure you're buying coverage from a licensed provider in your area by checking with the department of insurers of your Country, either online or by phone.
3- Check financial stability
Finding out the financial stability of an insurer. One can research a provider's insurance, financial strength rating, in the websites of companies such as A.M. Best, Standard & Poor's, Moody's or Fitch. While most of the major insurers are safe bets, this is especially helpful when considering smaller, lesser-known providers.
4- Customer service and claims support
Check consumer complaint ratios. Many departments of insurers websites publish consumer complaint ratios for the providers. A consumer complaint ratio tells you how many complaints an insurer received for every 1,000 claims its policyholders filed.
It's also a good idea to check a company's complaint rate in different countries, as a company may have an excellent complaint rate in one country, but not so good ratings in others.
For added protection, look for companies with low rates of consumer complaints in different countries.
Locate the insurer you trust
Health insurance in Spain
Health assurance in Spain is available through both the public and private sectors.
1. Public Health (Seguridad Social): Spain has a universal health care system known as the Sistema Nacional de Salud (SNS), which provides coverage to all residents and is funded through taxes. Contributions to social security entitle individuals to access public healthcare services, including primary care, hospital care, and specialist consultations.
2. Private Health (Seguro de Salud Privado): Many individuals in Spain also opt for private health to complement or supplement the public system. Private health offers quicker access to medical services, more choice of doctors and hospitals, and additional coverage options such as dental care, alternative therapies and global coverage.
When talking about private health in Spain, it is important to look for and compare different providers, coverage options, premiums and exclusions. It is also recommended to ensure that pre-existing conditions are covered and to review the waiting periods and application procedures.
Overall, whether you choose a public or private health in Spain, it is important to ensure you have adequate coverage to meet your healthcare needs.
Find out more Logos on European insurer.
Insurance Companies in Spain – World Insurance Companies Logos