Uzbekistan, Asia – World Insurance Companies Logos. Click on the insurance company logos to get a bunch of up-to-date information from every insurer. We want to help you to find the best coverage on the Internet. 
Insurance Companies Logos In Uzbekistan
Insurance Companies Logos In Uzbekistan. A logo is immediately recognizable as a synonym for the brand and allows the customer to associate the company with the useful qualities such as trust, fair price, and many other key questions about finding the best insurance.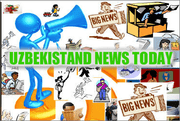 Uzbekistan's health care
In the post-Soviet era, the quality of health care has declined. Between 1992 and 2003, spending on health care and the ratio of hospital beds to population, both decreased by nearly 50 percent, and Russian emigration in that decade deprived the health system of many practitioners.
In 2004 Uzbekistan had 53 hospital beds per 10,000 population. Basic medical supplies such as disposable needles, anesthetics, and antibiotics are in very short supply.
Although all citizens nominally are entitled to free health care, in the post-Soviet era bribery has become a common way to bypass the slow and limited service of the state system.
In the early 2000s, policy has focused on improving primary health care facilities and cutting the cost of inpatient facilities. The state budget for 2006 allotted 11.1 percent for health expenditures, compared with 10.9 percent in 2005
from Wikipedia
Take a look at more insurance company logos in Asian Insurance Companies Logos
Uzbekistan, Asia – World Insurance Companies Logos