Philippines Insurance – World Insurance Companies Logos. Click on the insurance company logos to get a bunch of up-to-date information from every insurer. We want to help you to find the best insurance on the Internet. 
List of Insurance Company Logos
List of Insurance Company Logos in Philippines. A company's graphic brand means its brand. In insurance, a logo is immediately recognizable and allows the customer to associate the enterprise with the useful qualities such as trust, the right price, and many other vital issues about finding the best insurance. Click on each logo for much vital information to select the best insurer.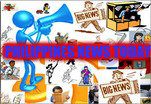 Economy in Philippines
​The Economy of the Philippines is the 39th largest in the world, according to 2015 International Monetary Fund statistics, and is also one of the emerging markets.
The Philippines is considered a newly industrialized country, which has an economy transitioning from one based on agriculture to one based more on services and manufacturing. In 2016, GDP by Purchasing power parity was estimated to be at $811.726 billion.
The primary exports include semiconductors and electronic products, transport equipment, garments, copper products, petroleum products, coconut oil, and fruits. Major trading partners include the United States, Japan, China, Singapore, South Korea, the Netherlands, Hong Kong, Germany, Taiwan, and Thailand.
The Philippines have been named as one of the Tiger Cub Economies together with Indonesia, and Thailand. It is currently one of Asia's fastest growing economies. However, major problems remain, mainly having to do with alleviating the wide income and growth disparities between the country's different regions and socioeconomic classes, reducing corruption, and investing in the infrastructure necessary to ensure future growth.
Shipbuilding and repair
The Philippines is a major player in the global shipbuilding industry with shipyards in Subic, Cebu, General Santos City and Batangas. It became the fourth largest shipbuilding nation in 2010. Subic-made cargo vessels are now exported to countries where shipping operators are based.
South Korea's Hanjin started production in Subic in 2007 of the 20 ships ordered by German and Greek shipping operators. The country's shipyards are now building ships like bulk carriers, container ships and big passenger ferries. General Santos' shipyard is mainly for ship repair and maintenance.
Being surrounded by waters, the country has abundant natural deep-sea ports ideal for development as production, construction and repair sites. On top of the current operating shipyards, two additional shipyards in Misamis Oriental and Cagayan province are being expanded to support future locators. It has a vast manpower pool of 60,000 certified welders that comprise the bulk of workers in shipbuilding.
In the ship repair sector, the Navotas complex in Metro Manila is expected to accommodate 96 vessels for repair
Automotive
The ABS used in Mercedes-Benz, BMW, and Volvo cars are made in the Philippines. Ford, Toyota, Mitsubishi, Nissan and Honda are the most prominent automakers manufacturing cars in the country.
Kia and Suzuki produce small cars in the country. Isuzu also produces SUVs in the country. Honda and Suzuki produce motorcycles in the country. A 2003 Canadian market research report predicted that further investments in this sector were expected to grow in the following years.
Toyota sells the most vehicles in the country. By 2011, China's Chery Automobile company is going to build their assembly plant in Laguna, that will serve and export cars to other countries in the region if monthly sales would reach 1,000 units. Automotive sales in the Philippines, moved up from 165,056 units in 2011 to over 180,000 in 2012. Japan's automotive manufacturing giant Mitsubishi Motors has announced that it will be expanding its operations in the Philippines.
Take a look at more insurance company logos in Asian Insurance Companies Logos
Philippines, Asia – World Insurance Companies Logos