Syria Insurance – World Insurance Companies Logos.
Click on the logos of the insurers to get a lot of updated information offering to each insurer. We would like to help you find the best coverage online. ​
Syrian Insurance Companies
Some insurers operating in Syria included:
1. SIC: Founded in 1960, SIC is Syria's leading insurance provider. It offers a wide range of assurance products, including property, auto, marine, engineering, health and life assurance.
2. Trust Company: is one of the leading providers in Syria. It offers various services such as property, auto, liability, and engineering insurance.
3. Al Sham Company: insures individuals and enterprises. Their services include property, auto, travel insurance, health assurance, and more.
4. Syrian Kuwaiti Insurance Company: offers a range of products, including auto, property, marine, and engineering assurance.
5. Al Baraka: This company provides assurance solutions for individuals and businesses. Their services include auto, property, health assurance, and more.
Insurance Companies Logos
List of Syrian Insurance Companies Logos. A logo is immediately recognizable as a synonym for the brand and allows the customer to associate the company with the useful qualities such as trust, fair price, and numerous other essential questions on the task of finding the best assurance.
Click on each logo for much vital information to select the best insurer.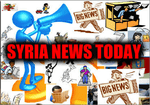 Health Care in Syria
The health situation in Syria has been severely impacted by the ongoing conflict that began in 2011. The conflict has led to widespread destruction of infrastructure, including healthcare facilities, and has resulted in the displacement of millions of people, leading to a humanitarian crisis. Here are some key points about the health situation in Syria:
Healthcare Infrastructure: Many healthcare facilities, including hospitals and clinics, have been damaged or destroyed during the conflict. This has led to a significant reduction in the availability of medical services, especially in areas heavily affected by the fighting.
Access to Healthcare: Access to healthcare services has become a major challenge for many Syrians, particularly those living in conflict-affected areas or as internally displaced persons (IDPs). The lack of healthcare facilities, medical supplies, and healthcare professionals has made it difficult for people to receive necessary medical care.
Humanitarian Aid: Humanitarian organizations and international agencies have been providing assistance to alleviate the healthcare crisis in Syria. They offer medical supplies, equipment, and support to healthcare facilities, as well as mobile clinics and field hospitals to reach vulnerable populations.
Disease Outbreaks and Health Risks: The conflict and displacement have increased the risk of disease outbreaks, including infectious diseases such as measles, polio, and cholera. The destruction of sanitation systems and inadequate access to clean water have also contributed to the spread of waterborne diseases. Additionally, mental health issues have become a significant concern due to the trauma experienced by Syrians during the conflict.
Humanitarian Workers: Aid workers and healthcare professionals face numerous challenges, including security risks and limited resources. Despite these challenges, they continue to provide essential healthcare services and support to those in need.
It is important to note that the situation in Syria is complex and constantly evolving. The impact of the conflict on healthcare and the overall health situation can vary across different regions of the country.
Take a look at more insurers logos in Asian Insurers Logos
Insurance in Syria – World Insurance Companies Logos