List of Insurance Companies logos and Names in Yemen – World Insurance Companies Logos. Click on the insurance company logos for a bunch of updated information offering to every insurer. We would like to help you find the best coverage online. 
Insurance Companies Logos in Yemen
Insurance Companies Logos in Yemen. A logo is immediately recognizable as a synonym for the brand and allows the customer to associate the company with the useful qualities such as trust, fair price, and many other key questions about finding the best insurance.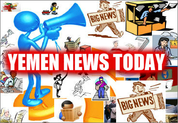 Economy
​The civil war in Yemen, one of the Arab world's least developed countries, has brought tentative efforts at modernization and integration into the global economy to a halt. The conflict's most immediate cause is a breakdown in relations between interim President Abd Rabbuh Mansour Hadi and the Houthis, a Zaydi Shia rebel movement. In March 2015, Saudi Arabia launched an intensive bombing campaign in an attempt to restore Hadi to power.
The Houthis have retained significant gains on the ground, and Hadi has fled to Saudi Arabia. Al-Qaeda in the Arabian Peninsula has exploited the conflict to seize parts of eastern Yemen and develop a working relationship with anti-Houthi tribal militias. Yemen's limited oil and gas production has been severely disrupted, and the prolonged conflict continues to take a heavy toll on the already fragile economy.
Before the current war, Yemen's economy had already been in a dire state. With structural economic reforms largely abandoned, years of mismanagement and corruption had compounded the depletion of natural resources and led to chronic underdevelopment. The conflict has aggravated this situation.
From
Agriculture and fishing
Agriculture is the mainstay of Yemen's economy. Numerous environmental problems hamper growth in this sector—soil erosion, sand dune encroachment, and deforestation—but the greatest problem by far is the scarcity of water. As a result of low levels of rainfall, agriculture in this region relies heavily on the extraction of groundwater, a resource that is being depleted. Yemen's water tables are falling by approximately two meters a year.
Although Yemen's extensive territorial waters and marine resources have the potential to produce 840,000 tons of fish each year, the fishing industry is relatively underdeveloped and consists largely of individual fishermen in small boats.
Oil and Gas
This country is a small oil producer and does not belong to the Organization of the Petroleum Exporting Countries (OPEC).
Take a look at more insurance company logos in Asian Insurance Companies Logos
List of Insurance Companies Logos and Names in Yemen – World Insurance Companies Logos